Library Collections
Our Library Collections
Mountain Meadows Monument Foundation currently has seven major library collections set in place. The one at Prescott was the last major collection to be created. We have established some smaller collections in NW Arkansas counties (Benton, Calhoun, Crawford, Johnson, Madison and Marion) where the wagon train families lived before heading West or where survivors lived later in life. Carroll County schools have already been provided with materials and a "History in a Box" program at Carrollton Lodge will provide access to massacre related materials for Carroll County residents. New materials seem to surface each year. The library collections need updating every 3-5 years. Local MMMF members play a role by delivering update materials to the libraries and building rapport with the libraries.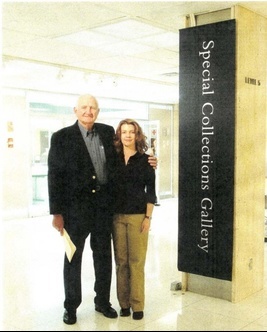 Marriott Library
University of Utah
Salt Lake City, UT
Burr Fancher and Dr. Shannon Novak deliver library collection to Special Collections at Marriott Library in Salt Lake City.
This collection was sponsored by Scott Fancher of Harrison, Arkansas.